Mycosis fungoides (MF) may involve more than just the skin1
As the most common cutaneous T-cell lymphoma (CTCL) subtype, MF may be indolent with skin-only symptoms, but may progress to the blood, lymph nodes, and viscera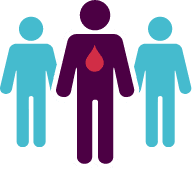 1 in 3

patients with MF

experience progression within skin or to other compartments, including blood2,3
Blood involvement
in mycosis fungoides (MF):

May be more common than you think4

Blood involvement may occur, even at early stages of MF

May impact outcomes2

Increasing blood tumor burden has previously been linked with worsening overall survival, disease-specific survival, and an increased risk of disease progression
CTCL Expert Perspectives: Patient Identification
Andrei Shustov, MD discusses identifying therapy-refractive patients, how blood involvement can impact treatment selection, how clinical practice guidelines help shape decisions, and appropriate patient types for treatment with POTELIGEO based on data from the phase 3 MAVORIC trial.
Blood testing for suspected mycosis fungoides (MF) is important at diagnosis and throughout treatment to monitor disease burden and response to treatment5
See how POTELIGEO responds in skin
References:
Willemze R, Jaffe ES, Burg G, et al. WHO-EORTC classification for cutaneous lymphomas. Blood. 2005;105(10):3768-3785.
Agar NS, Wedgeworth E, Crichton S, et al. Survival outcomes and prognostic factors in mycosis fungoides/Sézary syndrome: validation of the revised International Society for Cutaneous Lymphomas/European Organisation for Research and Treatment of Cancer staging proposal. J Clin Oncol. 2010;28(31):4730-4739.
Amorim GM, Niemeyer-Corbellini JP, Quintella DC, Cuzzi T, Ramos-E-Silva M. Clinical and epidemiological profile of patients with early stage mycosis fungoides. An Bras Dermatol. 2018;93(4):546-552.
Olsen E, Vonderheid E, Pimpinelli N, et al. Revisions to the staging and classification of mycosis fungoides and Sézary syndrome: a proposal of the International Society for Cutaneous Lymphomas (ISCL) and the cutaneous lymphoma task force of the European Organization of Research and Treatment of Cancer (EORTC). Blood. 2007;110(6):1713-1722.
Referenced with permission from the NCCN Clinical Practice Guidelines in Oncology (NCCN Guidelines®) for Primary Cutaneous Lymphomas V.1.2021. © National Comprehensive Cancer Network, Inc. 2021. All rights reserved. Accessed 05-18-2021. To view the most recent and complete version of the guideline, go online to NCCN.org.