Safety profile for POTELIGEO1
Median treatment exposure was 5.6 months for patients treated with POTELIGEO and 2.8 months for patients treated with vorinostat
POTELIGEO patients were treated twice as long with nearly half of patients staying on therapy for at least 6 months

Adverse reactions in ≥10% of patients with a ≥2% higher incidence within the POTELIGEO treatment arm1,a,b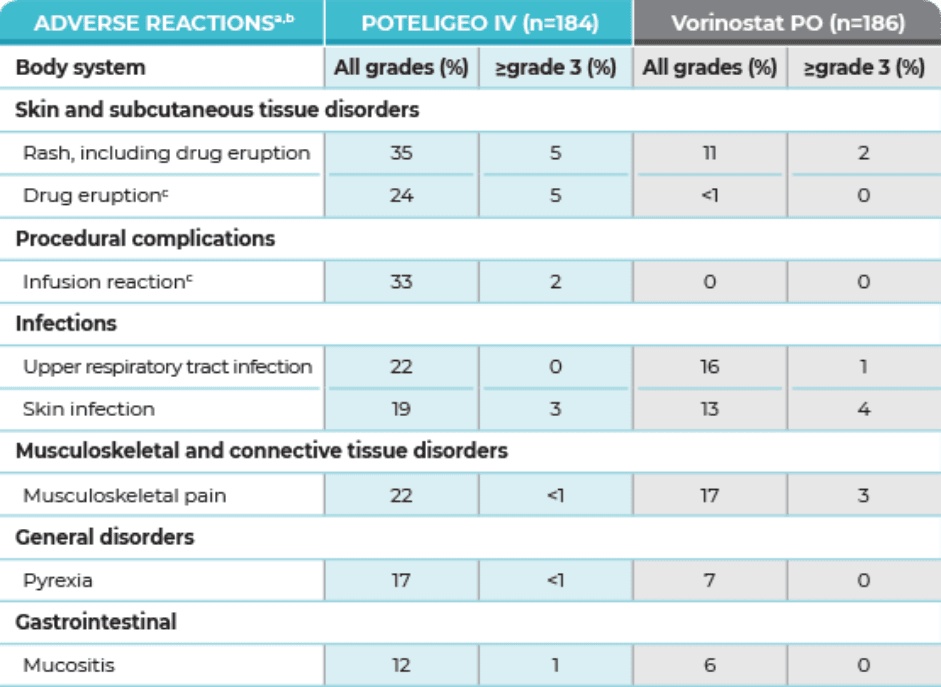 aAdverse reactions include groupings of individual preferred terms.
bIncludes adverse reactions reported up to 90 days after randomized treatment.
cPer study protocol, no prophylactic premedication with corticosteroids was permitted, however patients taking low-/intermediate-potency topical steroids or low-dose (≤20 mg) systemic steroids for at least 4 weeks could continue.
Laboratory abnormalities in ≥10% of patients with a ≥2% higher incidence within the POTELIGEO treatment arm1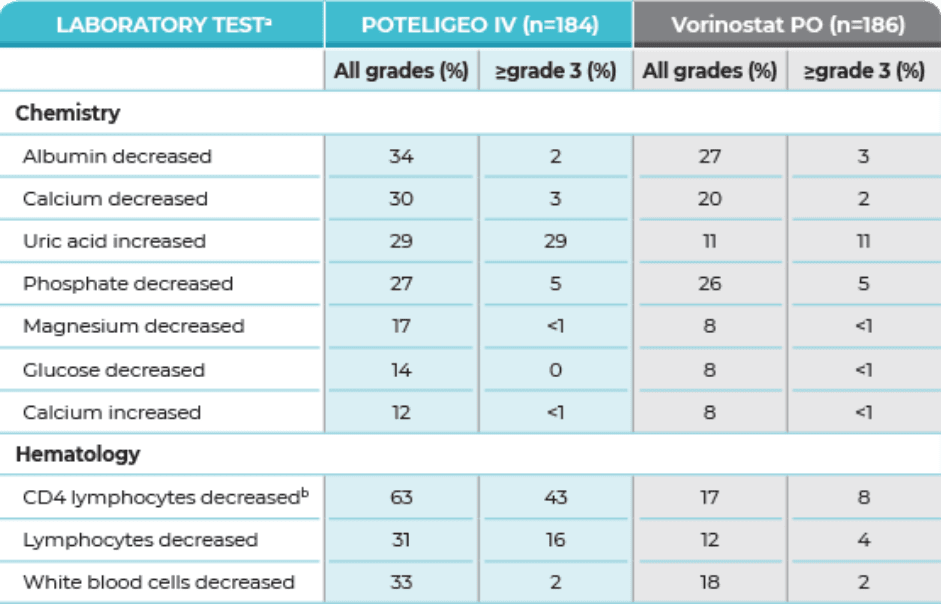 aIncludes lab abnormalities reported up to 90 days after treatment that were new or worsening in grade or with worsening from baseline unknown.
bOut of 99 evaluated recipients of POTELIGEO and 36 evaluable recipients of vorinostat.
No specific laboratory test is required to prescribe POTELIGEO
Discontinuation1,2
POTELIGEO was discontinued due to adverse reactions in 18% of patients1


-

Most frequent was rash (drug eruption) (7%)

Vorinostat was discontinued due to adverse reactions in 23% of patients2


-

20% of patients crossed over to POTELIGEO due to adverse reactions
References:
POTELIGEO [package insert]. Kyowa Kirin Inc., Bedminster, NJ USA.
Kim YH, Bagot M, Pinter-Brown L, et al. Mogamulizumab versus vorinostat in previously treated cutaneous T-cell lymphoma (MAVORIC): an international, open-label, randomised, controlled phase 3 trial. Lancet Oncol. 2018;19(9):1192-1204.