Sézary syndrome (SS) is an aggressive cutaneous T-cell lymphoma (CTCL) subtype1
Typical SS presentation on the skin is highly erythrodermic; SS also involves a high blood tumor burden and generalized lymphadenopathy2
Blood involvement in Sézary syndrome (SS):

Is usually classified as B2



SS is characterized by the presence of abnormal (Sézary) cells in the blood2

B2

is defined as ≥1000/μL Sézary cells with positive clone, CD4:CD8 ratio ≥10, 40% CD4+CD7- cells, or ≥30% CD4+CD26- cells3

Is associated with poorer prognosis/shorter survival for both MF and SS4

Patients with

B2

blood involvement have a shorter life expectancy and are associated with more negative outcomes as compared to those without blood involvement

(B0)

There are mixed outcomes associated with patients with

B1

blood involvement5
Two studies found a clinically significant difference in median overall survival for B0 and B24,6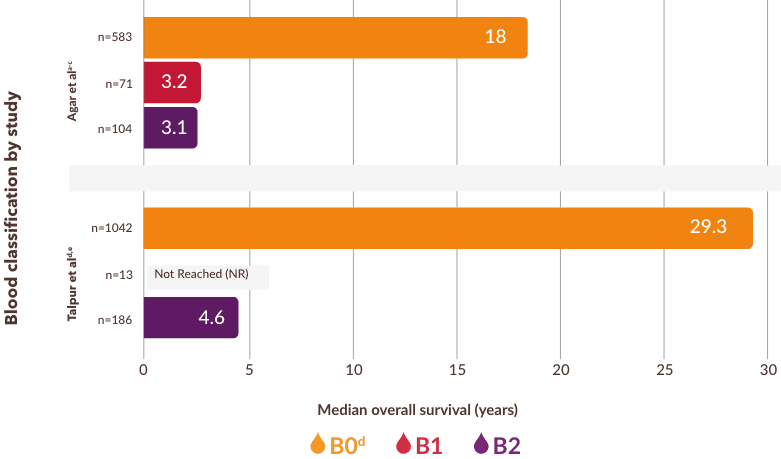 BLOOD CLASSIFICATION



In a third study, Scarisbrick et al also found a trend toward worse survival with increasing
blood involvement7
aBlood classification defined in the Agar study: B0=No blood involvement (≤5% SS cells); B0a=clone-negative; B0b=clone-positive; B1=low tumor burden (>5% SS cells but not meeting B2 criteria); B2=high tumor burden (≥1000/μL SS cells with positive clone).8
bRetrospective analysis of patients with MF and SS from the ICARSIS CTCL registry (1980-2009).4
cIn the Agar study, B0 represents those patients without T-cell receptor (TCR) data.4
dBlood classification defined in the Talpur study: B0=No blood involvement (<500 Sézary cells/μL; B1=low tumor burden (>500 and <1000 cells/µL); B2=high tumor burden (>1000 cells/μL or >35% of lymphocytes as CD4+CD26– or CD4+CD7– cells).6
eIn the Talpur study, median survival for patients with B1 levels of blood involvement was not reached due to limited number of patients.6
CTCL Expert Perspectives: Patient Communication
Lauren C. Pinter-Brown, MD, clinical professor of Hematology/Oncology at University of California, Irvine, discusses how to communicate with patients who have mycosis fungoides (MF) or SS on topics including disease state, prognosis, blood involvement, staging and prescribing.
Blood testing for suspected SS is important at diagnosis and throughout treatment to monitor disease burden and response to treatment9
Explore POTELIGEO MOA
References:
Kim YH, Bagot M, Pinter-Brown L, et al. Mogamulizumab versus vorinostat in previously treated cutaneous T-cell lymphoma (MAVORIC): an international, open-label, randomised, controlled phase 3 trial. Lancet Oncol. 2018;19(9):1192-1204.
Willemze R, Cerroni L, Kempf W, et al. The 2018 update of the WHO-EORTC classification for primary cutaneous lymphomas. Blood. 2019;133(16):1703-1714.
Cowan R, Scarisbrick JJ, Zinzani PL, et al. Efficacy and safety of mogamulizumab by patient baseline blood tumour burden: a post hoc analysis of the MAVORIC trial. J Eur Acad Dermatol Venereol. 2021;doi:10.1111/jdv.17523.
Agar NS, Wedgeworth E, Crichton S, et al. Survival outcomes and prognostic factors in mycosis fungoides/Sézary syndrome: validation of the revised International Society for Cutaneous Lymphomas/European Organisation for Research and Treatment of Cancer staging proposal. J Clin Oncol. 2010;28(31):4730-4739.
Scarisbrick JJ, Hodak E, Bagot M, et al. Blood classification and blood response criteria in mycosis fungoides and Sézary syndrome using flow cytometry: recommendations from the EORTC cutaneous lymphoma task force. Eur J Cancer. 2018;93:47-56.
Talpur R, Singh L, Daulat S, et al. Long-term outcomes of 1,263 patients with mycosis fungoides and Sézary syndrome from 1982 to 2009. Clin Cancer Res. 2012;18(18):5051-5060.
Scarisbrick JJ, Princes HM, Vermeer MH, et al. Cutaneous lymphoma international consortium study of outcome in advanced stages of mycosis fungoides and Sézary syndrome: effect of specific prognostic markers on survival and development of a prognostic model. J Clin Oncol. 2015;33(32):3766-3773.
Olsen E, Vonderheid E, Pimpinelli N, et al. Revisions to the staging and classification of mycosis fungoides and Sezary syndrome: a proposal of the International Society for Cutaneous Lymphomas (ISCL) and the cutaneous lymphoma task force of the European Organization of Research and Treatment of Cancer (EORTC). Blood. 2007;110(6):1713-1722.
Referenced with permission from the NCCN Clinical Practice Guidelines in Oncology (NCCN Guidelines®) for Primary Cutaneous Lymphomas V.1.2021. © National Comprehensive Cancer Network, Inc. 2021. All rights reserved. Accessed 05-18-2021. To view the most recent and complete version of the guideline, go online to NCCN.org.